Ultimate Ears

Professional Musician In-Ear Monitors
Perform

Your Best with Ultimate Ear
Whether on stage or in-studio, you need to hear every note and all your cues. In-ear monitors offer musicians, actors, DJs and announcers superior performance and sound quality. Ultimate Ears in-ear monitors can offer a flat frequency response or a more enhanced response for your performance.
What Do
Ultimate Ear

In-Ear Monitors Do?

As a professional performer, your ability to hear every note and every line is crucial to giving an unforgettable performance. But performing, whether it's on stage or in a studio, can damage the ears over time.

In-ear monitors are used by actors, serious musicians, audio engineers, and anyone who is serious about music. In-ear monitors allow you to hear exactly the mix of vocals, instruments, or audio you need without endangering your hearing. Replacing floor wedges, in-ear monitors give superior sound quality and more control. You'll hear only your mix (not that of other performers), so you can focus on perfecting your part. You can even get an in-ear monitor that allows you to hear the audience's reaction for when they call an encore.

In-ear monitors can also be used to live-stream instructions to actors, performers, announcers, or news presenters.
Which In-Ear Monitor System is
Best

?
We're a fan of Ultimate Ears, which are a preferred in-ear monitor for professional performers. The lightweight dual-driver design gives clear and balanced sound, and you can even isolate outside noise. But which Ultimate Ear in-ear monitors is right for you depends on what you're using it for. Some offer superior bass, while others are better for vocalists or in-studio use.
Hearing Doctors of Georgia is a Georgia authorized dealer for Ultimate Ears in-ear monitors for actors, musicians, and DJ's. We can help you find what works for you and your needs. Give us a call.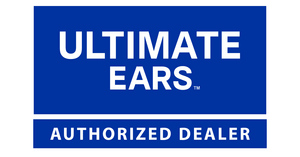 Are
Custom

In-Ear Monitors Worth It?

Custom in-ear monitors are something you should consider if you're serious about your performance. Custom in-ear monitors have these benefits:
They offer better hearing protection.
Let's face it, if you start to lose your hearing you lose your edge, so this is not a small detail.
Just you and the performance.
A better fit helps you feel isolated from distractions, and one with the production.
Pristine, quality sound.
A better fit also means cleaner frequency of sound and less feedback, which improves sound clarity.
Custom drivers for exactly what you need.
Drummers need a completely different mix of drivers than an actor. Custom in-ear monitors allow you to get exactly what you need, and only what you need. (Because extra drivers are expensive.)
Rockstar designs
…or something more discreet if that's what you need.
Can In-Ear Monitors
Damage

Your Ears?
Any loud noise can cause damage to your ears, especially over time. But the beauty of in-ear monitors is that you control the sound. That's a huge improvement over floor wedges or no monitor at all. You are not at the mercy of the venue or studio. We'll demonstrate how to use your in-ear monitors safely, so you can better protect your hearing.
Most Popular

Ultimate Ear Models